Patio Doors in New Orleans, LA
The Best Replacement Windows & Installation of Window
Save $200 Off Every Window with the TIME MANAGEMENT SAVINGS PACKAGE!
High Quality Patio Doors in New Orleans, LA
Finding the right patio doors for your New Orleans home can completely transform your living space. Stepping out onto a beautiful new patio or balcony can make your home feel bigger, brighter and more connected to the outdoors. When it's time to replace old, drafty or damaged patio doors, the team of professionals at Window Replacement New Orleans has the expertise to help find the perfect new doors for your needs and budget.
With a wide selection of stylish, high-performance patio doors, you can let more natural light into your home while improving energy efficiency. Carefully chosen new doors can also enhance the look of your home with attractive materials like wood, aluminum or fiberglass. To get the full experience of indoor-outdoor living in the New Orleans climate, panoramic multi-slide and French door styles are popular options.
Properly installed patio doors will provide you with smooth operation, tight seals and durable construction that can withstand wind and weather. Your new doors can come with convenient features like built-in blinds, tinted or Low-E glass, and secure locking systems. Choose from hinged or sliding openings in custom sizes to perfectly fit your existing patio or balcony space.
Caring for new patio doors is simple with proper cleaning, lubrication and maintenance. Protecting them from direct sun exposure and weather extremes will help ensure they function properly and look beautiful year after year. The skilled installation team will provide all the information you need on how to operate and care for your new doors.
The Patio Door Styles We Offer for Homes in New Orleans
When it's time to replace the patio doors in your New Orleans home, one of the biggest decisions you'll make is the style. There are numerous patio door styles to choose from, each with their own unique benefits and features. The patio door experts at Window Replacement New Orleans have installed countless doors across the city and can guide you in selecting the ideal style for your home and lifestyle.
Two panel doors are the most common, with one panel sliding and one stationary. This style offers a wide opening with a clean, contemporary look.

Three panel sliding doors provide an even larger opening when you want to truly blur the lines between indoor and outdoor living spaces. The third panel is fixed in place.

Four panel multi-slide doors take the sliding concept to the next level. All four panels glide smoothly to stack neatly to one side, creating a huge opening without any obstructions. This style is perfect for unobstructed backyard or pool views.
Sliding patio doors are typically available in materials like aluminum, vinyl, wood, or fiberglass. Advanced energy-efficient features like double pane or triple pane glass, argon gas filled, and low-E coatings can be added. Security enhancements like multi-point locks and laminated glass are also options.
Pivot doors have panels that rotate horizontally on a central pivot point to open. They lend a contemporary vibe.

Barn style doors slide on an overhead rail and can completely disappear when open. Rustic wood barn doors are popular.

Lift-slide doors have panels that lift before sliding to the side. This allows for very large openings.

Stacker doors accordion fold completely out of the way into a small stacked footprint against the wall.
The Many Material Options for New Orleans Patio Doors
Patio doors are available in a diverse range of materials to match any home style and budget. The material you select impacts the durability, longevity, appearance, weight, insulation value and price of your new doors. The window experts at Window Replacement New Orleans have experience with all the most popular patio door materials. We're here to guide you in choosing the right material for your home's specific nee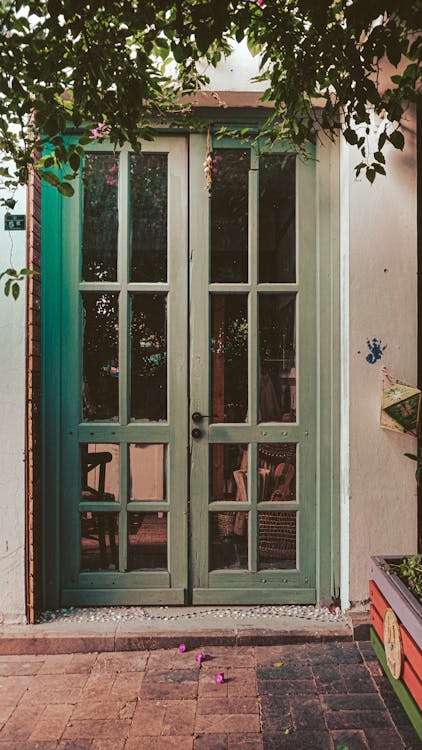 Get Started with Patio Doors Today
Your Window Replacement New Orleans patio door installation experts can explain all the pros, cons and options for any door style you are considering. Every home and preference is unique. We're here to make sure your new patio doors check all your boxes for functionality, aesthetics and performance.
Contact us today for a FREE Estimate!